Happy Customers and their Rocking Horses
Customer Testimonials from some of the many Happy Customers who bought one of our new rocking horses, a fully restored antique rocking horse, or who have had their own much loved rocking horse restored.
We recently restored a Lines medium sized rocking horse c1910, which had been very badly restored in the past with an oversized stand to the wrong pattern. We replaced the stand to one in keeping with the size and style of a Lines antique rocking horse with a 'Thistle' rosette which fortunately he had retained.
Our customer sent this lovely photo and says: 'So beautiful is he – I couldn't have wished for anything more perfect.
Hope you approve of his position. Thank you both so much.'
---
This small Ayres rocking horse had been painted mustard yellow with a stand painted in black gloss, which had penetrated the wood and proved very difficult to remove in order to return the stand to a lovely waxed wood finish.
The owners say: It's great to see how you have transformed him and to see all the hard work that has gone into it. We are absolutely delighted with how he has turned out and he is in pride of place in the garden room! We can't wait to show him off to the rest of the family. Thank you so much for all your hard work in restoring our rocking horse so beautifully.
---
We recently restored this rare, beautifully carved, but very tired old Ayres rocking horse, whose owner was overjoyed when she saw the result. He also solved a few mysteries for us, with his patent stencil for 29Jan 1880 on the stand and F H Ayres stamp under his belly. See our Rocking Horse Restoration page.

She writes: He hasn't made it upstairs to his room yet, staying on show a while. Everyone is overwhelmed with him. Thank you again for the amazing transformation. Xxx
---
OXFORD
This adult sized F H Ayres rocking horse restored by us recently, was bought by a very happy lady for her small 16 month old granddaughter. She says: "She doesn't find him at all scary, and gives him kisses and cuddles"
---
SCOTLAND
With best wishes from bonnie Scotland.
---
LINCOLNSHIRE
Our large new Classic Rocking Horse on Bows enjoying a lovely Lincolnshire home as a retirement/Christmas present. The new owner sent us this for our Customer Testimonials page: Thank you so much for Gilbert. We are all thrilled with him. I managed to keep him secret until dinner on Christmas night, when everyone had a ride on him! So he was a great success and he looks beautiful in the vaulted room.
PRESTON
We recently restored a small rather battered 1880 Lines rocking horse for Mr W and received this lovely email from him ( full email on our NEWS page ): " I nearly cried when I saw our rocking horse; now named 'Equuleus'. Jean and Brian had taken a much loved, very ordinary rocking horse and magically turned it into something of breathtaking beauty. I cannot express how thankful we are to Jean and Brian for everything. I have no hesitation in thoroughly recommending them to anybody who is either looking to buy or wanting a rocking horse restored. Daily, when we look at 'Equuleus', we marvel at his beauty, and can see the love, skill and passion true craftspeople have invested in his restoration. Once again, thank you Jean and Brian so much for everything!!"
WESTON-SUPER-MARE
We sold a large, very beautiful extra carved c1910 G & J Lines Rocking Horse to Lorraine, a very clever lady who makes the most wonderful, very exclusive teddy bears.She was really thrilled with her horse, which she calls 'The Duchess' and sent this for our Customer Testimonials page: " The courier delivered this evening. Well, what can I say – she is absolutely stunning. Photos just don't seem to capture the beauty of your rocking horses! Oh Jean she is just so beautiful and she really does look girly too. That mane is fantastic so thick and beautiful colour. I really love the wave going on in the front, just as I wanted. Thank you both so much. Love the colour trim you used on the saddlecloth, just perfect for a royal Duchess. Love the stand too, lovely rich colour and it's not too dark at all. Can't thank you both enough – I can see you have both worked really hard on her – she's perfect."
LANCASHIRE
Joanne, a lovely lady from Preston, after a long and extensive search, chose to buy one of our large new Classic Rocking Horses with saddler made saddle and sheepskin numnah to grace her new extension. She sent us this lovely comment for our Customer Testimonials: " He will look beautiful in our new room, and I certainly made the right choice. I cannot begin to imagine the amount of work that has gone into making him – you are both extremely talented and a great team. I want to thank you for helping me realise one of my dreams of owning a rocking horse. He is truly magnificent and I think you must be the best in the business for creating such wonderful horses."
SINGAPORE/YORKSHIRE
Tired Collinson Rocking Horse in need of Restoration
A gentleman living and working in Singapore asked us to collect his much loved childhood Collinson rocking horse from his family home in Keighley, Yorkshire and to restore it as close as possible to the original Collinson style. It was in really poor condition, with all the paintwork flaking off when touched with a fingernail. Several weeks later this was his response to photos of his treasured, now restored horse: " Wow!! That is amazing work, thank you so very much. It looks beautiful. It is going into storage for a while until I get a new place which hopefully will be soon. It looks wonderful. Thank you. "
YORK
This fully restored 1920's Lines Sportiboy rocking horse has just been delivered to the grandparents of two delightful little girls. They sent us this for our Customer Testimonials page: "He is called Trotter and when we see the girls they talk animatedly about him. We think he will turn into a family heirloom. Thank you for your expert and caring restoration – he is superb. Thanks again – Colin and Marian"
NEW ZEALAND – Tauranga
NEW ZEALAND Everyone has a ride on Sabre lovely New large Classic Rocking Horse -Customer Testimonials Everyone has a ride on Sabre NEW ZEALAND The family love Sabre, a large new Classic Rocking Horse with real saddle – Customer Testimonials The family love Sabre, a large new Classic Rocking Horse with real saddle NEW ZEALAND New Classic Rocking Horse gives the adults a ride too! – Customer Testimonials New Classic Rocking Horse gives the adults a ride too!
Alison writes: "Thank you all so very much for the time and energy you have put into creating the most beautiful rocking horse I have ever seen. 'Sabre' finally arrived at our address a couple of weeks ago. The two guys from the shipping agents were terrific. When they arrived, they uncrated him on the truck and then carried him up to the front door and inside the house placing him in the exact spot that my husband and I had agreed upon after much discussion. They then proceeded to finish unwrapping, got me to check him over and sign him off. Then he was officially mine. Guess who was the first person to sit on his back – my husband – Leo. Since then little Harper has delighted in many rides on him whenever she comes over, and the three boys have also ridden him and are absolutely thrilled with him. They are already making up songs and stories about him. I am sending you photos so you can complete another story about an absolutely thrilled family of all ages being able to enjoy such an amazing horse. I can't wait for Christmas as he will be one of the main centre pieces of my Christmas decorations I hope. Sabre is the most fantastic Christmas present I could have ever dreamed of getting"
---
SURBITON
Melanie sent this for our Customer Testimonials page: " Just wanted to say a very big Thank you for restoring my stunning rocking horse and having Peter return it to me last Thursday. I had my toddlers Christmas Party at home yesterday with around 10 under 2's attending, my rocking horse adorned with cute Christmas hat was a real favourite. Each little one was allowed a photo whilst sitting on my gorgeous horse.
She is now beautifully displayed in our hallway for all to see and admire. Her name is Harriet. Sometimes dreams do come true and seeing Harriet restored to her full glory is one of my wishes. Many thanks to all involved, you have done an amazing job and I shall have no hesitation in recommending you to any interested parties. Have a wonderful Christmas and a prosperous New Year"
---
COUNTY DURHAM
'Hero', a huge, beautiful and very rare extra carved antique Swan rocking horse was bought by their mother as a Christmas present for her two lovely daughters. She writes: "Hero arrived safely this afternoon…. the girls were so excited, they knew he was arriving today and ran all over the house looking for him. He is absolutely beautiful and the tack is just as I wanted it to look. The photo shows how much they love riding him."
SOUTH AFRICA
After a long sea journey from the UK and a lengthy wait in storage, 'Palio', a beautiful and elegant antique Lines extra carved rocking horse, is now settled in a lovely new nursery with his first jockey, Danica. Palio's new owners say: "We are indeed very happy customers!"
HAMPSHIRE
This keen teddy collector had always wanted a lovely rocking horse to accompany her superb teddy collection, and writes: " I'm delighted with him, he's a thing of beauty! That's just a small selection of my bears."
YORKSHIRE
" Zoe just couldn't wait to try her birthday rocking horse!"
OXFORDSHIRE
Ruby's grandmother writes: "This beautiful rocking horse was made to absolute perfection by Brian and Jean for Ruby's second birthday. Ruby was stunned when she first saw it. She totally adores it and is very, very proud to ride it, having already established a good dressage seat!"

CANADA
Mrs C writes: " It's been a while now that my daughter received he rocking horse, and you couldn't imagine how pleased she is with it! She loves it so much, she even calls him Clovis!! He is absolutely wonderful! I just thought I would let you know since I am amazed by the quality of your work, being myself very difficult. I couldn't be more satisfied, so I am thanking you again for your nice work!"
WALES
"…Thomas our son riding the horse to the max!! He really enjoys it. The horse has taken its place very well in the best lounge and everyone thinks that it is lovely. Thank you so much for all your hard work. We will treasure it as a member of the family."
OXFORD
Charlie's grandmother writes: "Many thanks for the little rocking horse, which has now been unveiled- or un-bubble-wrapped. The children and we are delighted with him. I attach a photo of Charlie having his first ride."
VICTORIA, AUSTRALIA
Jenny writes: "My rocking horse is just so beautiful – makes me happy every time I look at it. I still cannot get over the outstanding workwanship and detail that goes into every rocking horse you make. It is a credit to you both."
KENT
Amber's mother writes: "The horse arrived safely and is absolutely perfect, thank you. Amber points and shouts at it every time she sees it and loves to rock it."
MELBOURNE, AUSTRALIA
Caroline writes: " The eagle has landed!!! He is just lovely! Everyone who came to the house yesterday and today are very impressed with how handsome he is. Thank you again for restoring such a lovely steed. We will treasure him forever."
BERKSHIRE
" I cannot thank Jean & Brian enough for the wonderful restoration of Jessie. This horse has been a dream of mine since riding her in my infant class of 1945. When, at the age of 65, Iwas able to buy her she was broken and left in a cupboard, it is almost impossible to think that she could be restored to this standard. She is named after a good friend who recently celebrated her 100th birthday and it seemed quite fitting as my horse is c1910. Thanks again to you both, you really made my day."
HONG KONG
"….we are sending you a photo of our son Oliver and his rocking horse – he looks somewhat unsteady but he's only 1! Both he and his sister very much enjoy having a ride on it, so thanks indeed for sending it over to us here in Hong Kong."
HONG KONG
"Kirstie and Sarah love the horse as do all their friends. Like many young girls they are horse mad. They called the horse Dylan after the horse they ride in the summer holidays."
THE NETHERLANDS
Maxime's mother writes for our Customer Testimonials page ( Christmas 2004 ): "Maxime sends you warm regards……according to him, Mum is delighted with the gift for her boy's first birthday….."
CHESHIRE
Hilary and her daughter Seraphina, thoroughly enjoyed a test ride when ordering their rocking horse for Christmas 2003. In the New Year Hilary wrote: "Seraphina thoroughly enjoyed her horse over Christmas and the New Year. She continues to ride "Lucy" every day! It took her 2 days to think of that name. The horse is even more beautiful than I expected it to be. Thank you very much."
IRELAND
Brianna's parents sent this for our Customer Testimonials page: "Brianna is delighted with her rocking horse. Thank you for making her Christmas."
SUSSEX
Alexandra & Ben's mother writes about their rocking horse: "Pilgrim has become a part of the family now and is admired by everyone. I often find myself just standing and gazing at him, and marvelling at the skill and craftsmanship that went into creating him. I would like to thank you both so very much particularly on behalf of my children for making it possible to have him for Ben's birthday and for paying attention to all those details that mattered so much to me."
SUSSEX (18 Months on)
Alex and Ben's mother sent us this lovely picture of "Santa and an Elf on a reindeer getting ready for Christmas" and wrote: "Alex and Ben adore their reindeer/horse and he gets lots of attention. I still feel emotional when I look at the horse. I feel very pleased that I invested in the very best childhood toy that I feel money could buy for my children. Thank you again for making them such a beautiful rocking horse."
SUSSEX (4 years on)
Alex & Ben's parents write: "and here we see the 4 year old Mr Pilgrim being led away by owner Ben, ridden by new comer jockey Alex that led the young steed to his first win at the showground at Hickstead. Still a firm favourite!"
SCOTLAND
George enjoying his birthday presents, including the dappled grey rocking horse from his grandmother, who writes: "I would like to thank you for all the trouble you took to ensure the rocking horse was delivered in good time for my grandson's first birthday. Everyone was absolutely delighted with it. The quality, design, colours, nameplate – in fact everything was just perfect."
NEW YORK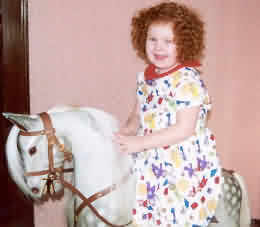 Cordelia's mother writes: "The horse showed up last week, right on time. She loves it, as you can see. At her birthday party on Saturday, the kids were queueing up for rides – none of them had ever seen an English horse like that before. An English lady who attended the party asked if it was a family heirloom – I said yes, it was, as of Wednesday! Many thanks."
WILTSHIRE
When an English Earl and Countess were looking urgently for a granddaughter's birthday present, their secretary scoured the net for a high quality rocking horse to closely match a much loved family heirloom, a beautiful antique Victorian Ayres rocking horse. Having seen our Customer Testimonials, they chose us to produce an exact replica, working only from a photograph of their existing favourite, and were delighted with the fine quality of our workmanship and the close resemblance to the original when the two stood side by side.
YORKSHIRE
Emily's grandmother writes for our Customer Testimonials page: "I enclose photos of Emily with the rocking horse you made for her. He's much loved by everyone!"
SCOTLAND Customer Testimonials
Kayleigh's grandparents were justifiably proud of their granddaughter, and said: "She is delighted with her new horse and has taken to riding in a big way. The horse has been well admired. Thank you again. Nearly a year on, her grandparents wrote to say that: "the rocking horse we bought from you has got to be the best investment we made on behalf of our granddaughter Kayleigh. The pleasure she gets from it is immense. It has become a daily ritual for her to spend time riding it."
When Kayleigh was nearly three, her grandparents wrote: "Our granddaughter, Kayleigh, will soon be three, so we've sent these pictures for you to see, Kayleigh likes her horse to much, we thought we'd like to keep in touch. "Now Kayleigh is four, her grandparents write: "We're sending a picture of Kayleigh she's now four, Please let us know if you don't want any more, horse riding lessons we thought she'd start, but it nearly broke Kayleigh's heart, She thought her horse would have to go away, but we assured her she would stay, On a real horse Kayleigh was not so bold, so we've put riding lessons on hold. When we bought Willow for her at the age of one, we could not envisage the amount of fun, Kayleigh would have every day, when with her horse she starts to play!
Seven years on, Kayleigh's grandfather sent this lovely follow-up for our Customer Testimonials page:"It's been seven years since I bought our granddaughter Kayleigh her rocking horse from you and she still treasures it. She has looked after it well and it's in constant use. I've seen quite a few other rocking horses by other makers and I can still say I made the right choice in buying from you – excellent quality."
17 Years On
Out of the blue we received the following lovely email for our Customer Testimonials page from Kayleigh's grandfather ( as you will see, they are still 'Very Happy Customers'):-"I thought I'd just drop you a note about the Rocking Horse I purchased from you for my granddaughter Kayleigh almost seventeen years ago.
Kayleigh is learning to drive now and hoping sometime this year to buy her first car. I said to her that she can if she wishes, sell her rocking horse to help towards it's cost now that she has had good use of it. Granddad she says, I still love that present and it will stay with me forever and who knows, I might have children of my own some day and they can enjoy it. Kayleigh still occasionally has a go on it, big though she is. She will be leaving school this year hoping to go to university."
STAFFORDSHIRE
Ally loves her rocking horse on bow rockers, which her grandparents bought when she was just ten months old.
YORKSHIRE
Toby loves 'Mrs Dapple', a specially commissioned copy of a particularly fine antique Ayres rocking horse which we had already restored for the family. Toby's mother writes for our Customer Testimonials page: "Thank you so much for all your work with 'Mrs Dapple'. She really is beautiful and greatly admired by everyone."
SUSSEX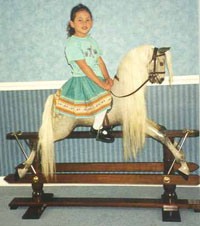 Having visited our website, Aimee's parents bought this large Classic Rocking Horse for her birthday, without seeing it 'in the flesh'. Upon delivery Aimee and her family were delighted with her new friend and kindly sent us this lovely photograph for our customer testimonials. They told us by email that they have recently looked in the biggest toy shop in New York and 'saw some rocking horses but none as nice as yours.'