Vintage and antique rocking horses which arrive for rocking horse restoration at our workshop have suffered the ravages of many years of hard pounding, and sometimes, sadly, years of neglect and the attentions of enthusiastic, but poorly skilled amateur restorers. Old rocking horses have invariably lost their saddles and bridles, gesso has perished, and paint and varnish have failed. Joints have given up under the strain, and extremities such as ears, jaws and glass eyes have gone missing. Even a much loved antique rocking horse which has been through many generations of the same family is eventually ready for a complete restoration and a new lease of life. The result is a beautiful antique rocking horse with renewed vitality and value but retaining its original character and mellow appearance, ready for its new owner.
How Rocking Horses Were Made
The Body: Rocking horse bodies were traditionally made from boards of pine glued together into a hollow box construction. This gave the horse an excellent combination of strength, weight and stability. The legs were made from a dense hardwood such as beech, mortise & tenon jointed into the pine body to withstand the strain of years of boisterous rocking. Our New Classic Rocking Horses are made in exactly the same way today.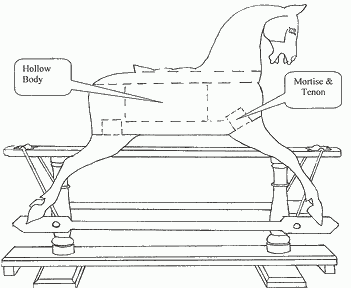 Paintwork: After carving, the horse body was covered in several layers of gesso, a mixture of glue and whiting used for centuries by artists and gilders to give a hard, smooth surface to wood prior to painting. The rocking horse body was then given several coats of paint, dappled by hand and, finally, finished with a layer of varnish. It is this coat of varnish which yellows with age and gives old rocking horses their characteristic and very appealing yellowish hue.
The Stand: The rocking horse stand was usually made of pine, except for the pillars which were made from hardwood for strength. The horse was mounted on hoof rails which were suspended from the top rail by swing irons, held by metal brackets.
---
Restoration of a 'Swan' rocking horse
Video 1. shows the restoration of a 'Swan' rocking horse, whose owners were taking it to the rubbish tip, when they telephoned to see if we could rescue it.
>
---
Restoration of 'Brigadier'
Video 2. is of 'Brigadier' a massive 58″ high rocking horse by F.H.Ayres of London, which is now restored to former glory.
---
Rocking horse renovation of a Lines Extra Carved Horse
Video 3. Rocking Horse Restoration of a very fine Lines Extra Carved Horse on Bows, now fully restored and ready for another 100 years of hard riding.
---
30 Years of Rocking Horse Restorations
Over the past 30 years we have had for restoration a few very special rocking horses with unusual, strikingly carved heads, usually with stands and brackets to the Ayres pattern, or remnants of such stands. We always thought these were early F H Ayres horse by a very talented carver, though they sometimes seem to be attributed to Leach, possibly because they are so rare and of such outstanding quality, carved to a distinctly different body pattern from that of most other Ayres horses.
Recently we have taken in for restoration another example which has solved the mystery. Clearing old gloss paint from the belly, we revealed an F H Ayres stencil, and on the stand a faint remnant of a patent stamp for 29 Jan 1880.
The other interesting detail is that old printed paper had been used to cover joints, and we had previously found almost identical paper over the joints of a massive, beautifully carved horse we restored last year – fortunately we sold it as an early Ayres!
---
Rocking Horse Restoration Quotations
We shall be happy to quote for restoration of your rocking horse, but regret we undertake only full restoration as illustrated, and are not able to supply rocking horse restoration parts or accessories separately. In order to give an accurate restoration quote, please let us have photos of your horse, preferably taken straight on from the side and including all of the stand, together with measurements from floor to top of ear and stand length (longest board at the bottom of the stand.) Photos of any significant damage will also be useful. We may be able to identify your horse if it is by a known maker.
We can often email back to you photos of similar models we have restored in the past, to give a better idea of the finished result we expect to achieve for your own rocking horse. You can also see fully restored rocking horses on our Antique Rocking Horses page, and you may be able to identify your own rocking horse from our Identify Old Rocking Horses page.
Please also let us know where in the UK you are based, since we can arrange collection and delivery by a careful and trusted carrier at cost.
Good rocking horse restoration requires attention to detail, is time consuming and requires considerable woodworking and artistic skill, together with knowledge and love of the subject. Unfortunately it cannot be achieved quickly and cheaply – depending on the size, rocking horse restoration tends to be from £1,500-£2,000, however if total replacement of a stand is required it costs rather more.